RHOC Recap: God Is In Vegas
The Orange County wives go from glamping to Sin City.
Fresh off their glamping trip, The Real Housewives of Orange County again packed their bags, this time heading for a place that would make their usual tomfoolery seem like child's play: Sin City. The ladies made the jaunt to support Gretchen Rossi during her singing and dancing performance with the Pussycat Dolls.
But first, they had their regular song and dance to do in the O.C.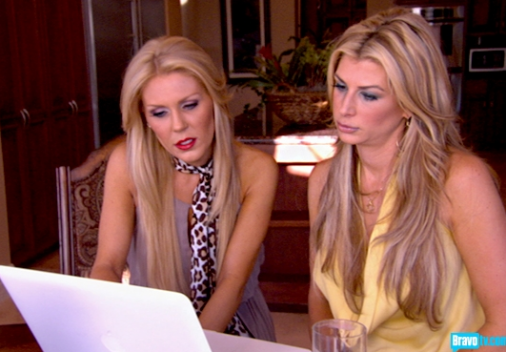 Alexis Bellino asked Gretchen to come over and critique her reel from her TV "journalist" job in San Diego. While there, Gretchen casually mentioned that the TV station had offered her the gig first, and in fact, they were still recruiting her for it, but that she was just too busy. Alexis seemed stunned, but seriously, she couldn't have possibly thought she was their first choice, could she? Good grief.
Anyhoo, Gretchen watched the horrifying TV footage, and kindly suggested that Alexis hire a hosting coach. Offended, Alexis said "the old Gretchen that wasn't friends with Tamra would have been a lot more supportive." Um, the fact that Gretchen didn't tell Alexis to go off the grid and save herself a lifetime of embarrassment was being plenty supportive
in our books.
Heather Dubrow auditioned for an acting role for a show that shoots in … Canada. Her husband was encouraging, though, unlike Alexis' hubs who told her he didn't know how hiring a coach would "fit into being a wife and mother," that she already spent too much time away from her family.
Gretchen somehow managed to get the entire group to Vegas.(Yes, even Vicki, who is not only her mortal enemy, but a crazed workaholic.) On the way there, Slade told Gretch that she was about to enter an exclusive club: that once she performed with the PCD, she'd enter an elite group that included Britney Spears, Pink and Christina Aguilera. Raise your hand if Slade make you want to vom at least once every week.
Right as Gretchen was set to go on, Alexis went backstage, held her hand and prayed. Afterward, Alexis said: "God shows up everywhere, and God is in Vegas." We'll tell you where else God was: He was in our living room looking out for us, because we were spared seeing Gretchen's performance until next week's episode.